Sixteen days ago I went to tell my therapist I wasn't going to see her anymore because I was moving soon and it felt like it was this big thing in my life as it was happening due to I had been seeing her for like five years and she said surprise bitch I was about to tell you I'm leaving too and I said haha and she said haha and then I went back to my house and haven't left since.
As we've been living through all this shit you might find yourself on occasion being briefly inspired by people working together and sacrificing and so on and you might think maybe we're not so bad after all. That has typically been a fleeting experience for me however.
Have you been having trouble figuring out if you can in fact apply for unemployment or if you are eligible for getting that sweet one time $1,200 bucks that's supposed to be coming because I have tried to read like four articles on it and I have no idea guess I'll go suck my own dick instead. It's not red tape and regulation for everyone though because the EPA said this week it's relaxing rules on pollution standards due to the fallout of the coronavirus. Now they're "allowing power plants, factories and other facilities to determine for themselves if they are able to meet legal requirements on reporting air and water pollution," according to the New York Times.
"The order asks companies to 'act responsibly' if they cannot currently comply with rules that require them to monitor or report the release of hazardous air pollution. Businesses, it said, should 'minimize the effects and duration of any noncompliance' and keep records to report to the agency how Covid-19 restrictions prevented them from meeting pollution rules."
Feels like just the other day people were talking about how nice it is to see pollution reduced in cities because there's been so much less travel but oh well guess we can all just go suck our own dicks.
Gina McCarthy, who led the E.P.A. under the Obama administration and now serves as president of the Natural Resources Defense Council, called it "an open license to pollute." She said that while individual companies might need flexibility, "this brazen directive is nothing short of an abject abdication of the E.P.A. mission to protect our well being.''

Cynthia Giles, who headed the E.P.A. enforcement division during the Obama administration, said: "This is essentially a nationwide waiver of environmental rules. It is so far beyond any reasonable response I am just stunned."
Here's a notice sent out to renters of Hyman Properties in Pennsylvania earlier this week.
The owner Nat Hyman has since apologized for the tone of the letter. "Of course I regret the whole thing," he said. "I regret that I was so vilified about it. It's shocking to me that it went viral the way it did."
That type of letter from landlords is certainly not unique right now in fact you might have gotten one of your own so please feel free to send it over to me if you did or to send me anything else going on in your life that you think might be relevant.
Speaking of landlords a piece of shit named Joel Freedman who owns the property on which a hospital that closed in Philadelphia last year sits was asking for $1 million a month to let the city use it. Mayor Jim Kenney accused Freedman of "trying to make a buck" during the pandemic according to the Philadelphia Inquirer to which Freedman responded he was making a "a very reasonable, heartfelt offer…" Yesterday the mayor said fuck it. "In the midst of a public health crisis with the numbers of positive cases increasing daily, we simply do not have the time to continue on a lengthy negotiation."
The thing about my therapist leaving was that she was going to start transitioning into remote therapy she said and I have to say that was a pretty prescient decision on her part. Perhaps I should have listened to her more intently all this time. I asked her if she thought I had gotten any better since she first started seeing me and she said I was a hard one to figure out but that I had definitely taken a lot of steps forward but then I often take two steps back so it's progress of a kind but not.
On Thursday the president told Sean Hannity that he doesn't believe governors about how many ventilators they will need particularly Andrew Cuomo in New York.
"I have a feeling that a lot of the numbers that are being said in some areas are just bigger than they're going to be," he said. "I don't believe you need 40,000 or 30,000 ventilators. You go into major hospitals sometimes, and they'll have two ventilators. And now all of a sudden they're saying, 'Can we order 30,000 ventilators?'"
"We've had a big problem with the young, a woman governor from, you know who I'm talking about, from Michigan," Trump also told Hannity forgetting Gretchen Whitmer's name. "We can't… we don't like to see the complaints," he said before going on to criticize Jay Inslee of Washington as well.
"She's not stepping up," he said of Whitmer. "I don't know if she knows what's going on, but all she does is sit there and blame the federal government. She doesn't get it done and we send her a lot," he said.
The Henry Ford Health System in Michigan has confirmed the veracity of a letter that had been circulating this week outlining what they are now calling worst case scenario preparations for the possibility of being overwhelmed and not having enough ventilators and having to make decisions about which patients will be given priority over others.
Earlier this week it was reported that a seventeen year old boy in Los Angeles County had died from symptoms associated with the coronavirus. The boy went to an urgent care clinic with respiratory symptoms and was denied treatment there R. Rex Parris the mayor of Lancaster explained in a video on Wednesday.
"He didn't have insurance, so they did not treat him," the mayor said so the facility told him to try the emergency room at a local hospital. On the way there he went into cardiac arrest and he died a few hours later. But now health officials there aren't so sure that the coronavirus was actually technically the cause of his death so they are taking the points down off the board which is great news because he would've been the first teenager believed to have died from it. Instead he's just a teenager who died because he couldn't get treatment due to not having health insurance so it's just regular Hell World shit not Hell World 2 and that is better for some reason I guess.
The boy's father who is an Uber driver is also suspected of having the virus according to the Los Angeles Times.
Every day before you heard of the virus was a health crisis for millions. Every day people died for lack of care. Every day people couldn't get a hospital bed. Happy people want action now but if you don't take the next logical step you're just scared this shit is coming for you.
Over three million people filed unemployment claims last week which far surpassed the record of 695,000 in October of 1982 and the 665,000 in March of 2009 at the peak of the Great Recession. Do you suppose maybe it is perhaps time to consider whether tying health insurance to employment like we do in this country is a good idea or not?
I suggest the following: It is… bad.
Here's a passage from A Tale of Two Cities I was just reminded of.
Along the Paris streets, the death-carts rumble, hollow and harsh. Six tumbrils carry the day's wine to La Guillotine. All the devouring and insatiate Monsters imagined since imagination could record itself, are fused in the one realisation, Guillotine. And yet there is not in France, with its rich variety of soil and climate, a blade, a leaf, a root, a sprig, a peppercorn, which will grow to maturity under conditions more certain than those that have produced this horror. Crush humanity out of shape once more, under similar hammers, and it will twist itself into the same tortured forms. Sow the same seed of rapacious license and oppression over again, and it will surely yield the same fruit according to its kind.
I would like to beg the news media to stop showing me what the stock market is doing no one knows or cares what the stock market is it's like being shown the heart rate of a small group of people on a distant roller coaster we've never been on and will never get to go on and it's like the main thing they talk about on the news for some reason.
I dream about you
All the time
You must be on my mind.
When time was turning,
Being tugged by the boat of the fragile mind,
We hoped we might make it out alive...
To live to tell the tale of it.
Our hands were washed and aimed for it.
Are you still game for it?
We could make it
We could make it
We could make it
Out alive.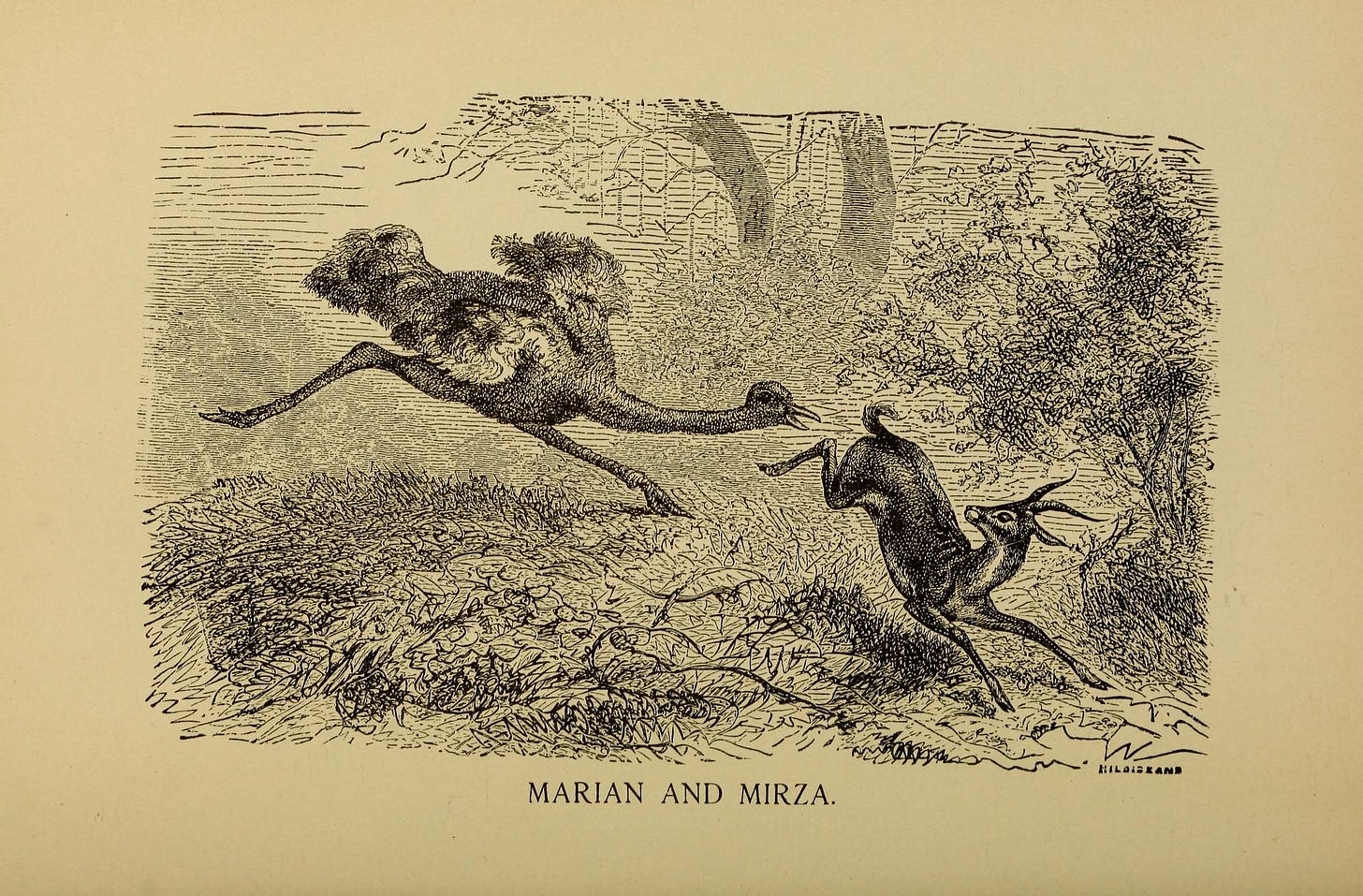 You may have missed this Hell World that I sent out to paid subscribers the other day. It's an interview with a worker at a grocery store in California about what it's been like being in the shit the past couple weeks.
"It's forced us all out of our element," the grocery store worker told me. Under normal circumstances he runs the produce department at a popular chain in California. "I'm a workhorse. I order and break heavy pallets of product and organize the shit out of it. That's my thing and I'm good at it."

Now he's something like a combination between a nightclub bouncer and a public health official.

"I'm spending hours on end with a clipboard monitoring a line of people in masks that spans a city block, separating them into ten person groups and explaining what they can and can't buy like some post-apocalyptic Disneyland ride operator. Half of my team is allocated to sanitizing carts nonstop and the other half is policing how many eggs and units of raw chicken people have in their carts. It's not traumatic, but talking to your three hundredth masked person in one day takes a toll I didn't anticipate."

"The sudden rise in 'thank yous' we've been getting is nice, but it can't help but feel patronizing, he said. "In the end, we're just grateful we can still come in and make what little money we can."

We talked today about the pressures and surprises of all of a sudden finding yourself on the frontlines of a pandemic as an essential worker.
Read the rest here.
I also checked back in with a postal carrier in California who I first interviewed on March 12. You can read that one here for free. He told me a couple days ago in a follow up interview that the USPS still doesn't seem to be taking enough precautions.
What's changed since we last spoke?

A week after you and I talked they got the message about the sick leave and riding people on attendance, but at the same time the union steward, that same day, was filing grievances for attendance issues. Nationally they'll say one thing, but locally it takes time to trickle down. They did expand out non-career employees allowance on sick leave. There's temporary sick leave for the next two months, but it will disappear once this is over. They've expanded what you can use it for, but that doesn't matter because, like I said, they're still using discipline. I can't say that's the case nationally, but that stuff is not sticking in supervisor's minds locally.

What about supplies? Has that gotten any better?

They've been stocking up on masks and hand sanitizer, but they're also giving us CDC guidelines that say masks are useless unless you're' also sick. They're giving us a mask and saying hey you're not supposed to be using them.

Is anyone at your office sick?

Not at our office that I know of, but the town I deliver in, last I checked, had two official cases. Our town is notorious as an international travel place. The people who live here are constantly in and out of the country, so who knows how many cases.

You mentioned your wife?

My wife is diabetic, so she's at risk for this disease. I don't know the exact numbers but it's like six to seven times more likely to be hospitalized. Even though we're both in our thirties, that guideline has stuck with her. She hasn't left the house since the school closed where she works as social worker. Her last day was ten, eleven days ago.

What's morale like at work?

Most of the guys here, 30-40%, are within the guidelines for people who shouldn't be out. But most of them have such a cavalier attitude, like they've been doing it so long, they think nothing is going to shut them down, so fuck it, it's nihilistic.

What do you want leadership to do?

They need to have a better idea of what goes into the job. A lot of their guidance doesn't fit well with the logistics of the job. It's wash your hands, don't touch your face. I touch like 2,500 pieces of mail a day. Any of them could be a vector for sick employees anywhere else. What good does telling me to wash my hands do? I don't know which piece is the one.

I would ideally like for them to be honest about sick leave. This whole friendly face telling us how much we're cherished and loved by the community doesn't do much if you're also still issuing discipline. I don't know how many carriers are facing this right now, but my co-worker was in a grievance about attendance two days ago. I think they need to be more flexible with people that are at risk. They're saying the only way you can get administrative leave is if you're tested positive. You and I know how hard it is to be tested right now. The idea that some middle class schlub is gonna be tested on a whim… It isn't gonna happen.

Any new safety measures?

The only safety measure implemented is we're now allowed to sign for packages for customers. That started Saturday. That's the only thing they got carrier feedback on. Locally they are not taking our recommendations. There are sixty of us clocking in at 8 am, all of us standing two feet apart at the only two time clocks. We've asked to do staggered start times. We've asked if we can keep our time cards on us, so people can't cough on them or grab one. There's one big case where they all sit. We're saying, hey, can I keep this on my person or desk, and they're saying no.

What else?

One more thing to include if you want to advise actual customers: CDC says the virus doesn't last on paper for much more than twenty four-forty eight hours, but six-ten employees are probably handling each letter along its path. Best advice: handle the mail in your box carefully — bag it for a couple days if possible — and disinfect or wipe down if feasible. Especially since the average mail lover seems to be about eighty.
Just before I went to break up with my therapist I had been swimming in the pool at the YMCA like I do and while things had started to get a little weird out in the city they weren't too bad as of yet so I swam over to the lifeguard the one with the glasses and I said are you sure you guys think it's safe to be in here still and she said totally a pool is probably the safest place you could be right now and that was good enough for me and so I swam my stupid little laps at the pool I'll never swim in again due to as I mentioned we're about to move.
I talked about this in here a lot a while back while we were searching but after living in this apartment for thirteen fucking years owing mostly to the fact that the nice old lady downstairs liked us and rarely raised the rent as much as other pieces of shit would have we're finally being forced out now that her daughter is taking over and wants to gut the place and double the rent and so we have been looking for a home to borrow from a bank because if we're going to have to pay like $2,500 a month or more to rent now we might as well pay it as a mortgage instead and so finally we found one about forty minutes west of Boston in a nice little town with at least two Dunkin Donuts that I am aware of probably more. A week or so before my last swim we finally finalized the deal and I guess it's still going to happen despite everything and it's exciting in a lot of ways but on the other hand the place that the bank is going to let us pay them back for for the next thirty years is probably worth $100,000 less than it was a month ago lol and on top of that who knows what is going to happen to the publications I write for in the next year or the newsletter business or Michelle's teaching job and on top of that I'm terrified about having to deal with movers at the moment and also worried about being in a new place that is unfamiliar to me and does not yet feel like home while barely being able to leave it. It's a nice little place though.
I'm also sad that I'll never get a last chance to do any of the things I regularly do in my neighborhood here like I'll never see my barber again I'll never go to our beloved local pub again and I'll never take the bus into Harvard Square on an early spring day when everyone is outside to sit there and just watch people moving around like they used to do in the before times and then I'd go get like a $6 iced coffee and think this coffee sucks but the important thing is it was my shitty $6 coffee.
I didn't even get to do any of the stuff I've done all the time for over a decade one last time while knowing it was the last time if that makes sense but I suppose that is how things go you never know when it's the official last time for anything and fuck me anyway because we are as of yet not sick and no one we love has gotten sick and we are not working in a hospital death factory or dying in a hospital death factory as we speak so what do I have to actually complain about. My problems are nothing compared to millions of other people but that has also always been the case. You know what I mean though. Besides things could always get worse instantly for me and for you and for anyone.
I suppose I could drive back and take one last see you later lap to all my places but it won't be the same because they won't be my places anymore.
One of the things we had talked about months ago was how it was going to be sad to say goodbye to the old lady downstairs when the time came but now I guess we won't even get to do that because she's like ninety and it's probably not a good idea to come into contact with her so instead we'll just knock on the window to the room where she sits downstairs with the TV blasting and we'll wave and say byeeeee thank you so much for being (relatively) good to us all these years and she'll say what because she can't hear anything and we'll wave again and maybe she'll register that we're gone or maybe she won't and then we'll be somewhere else.